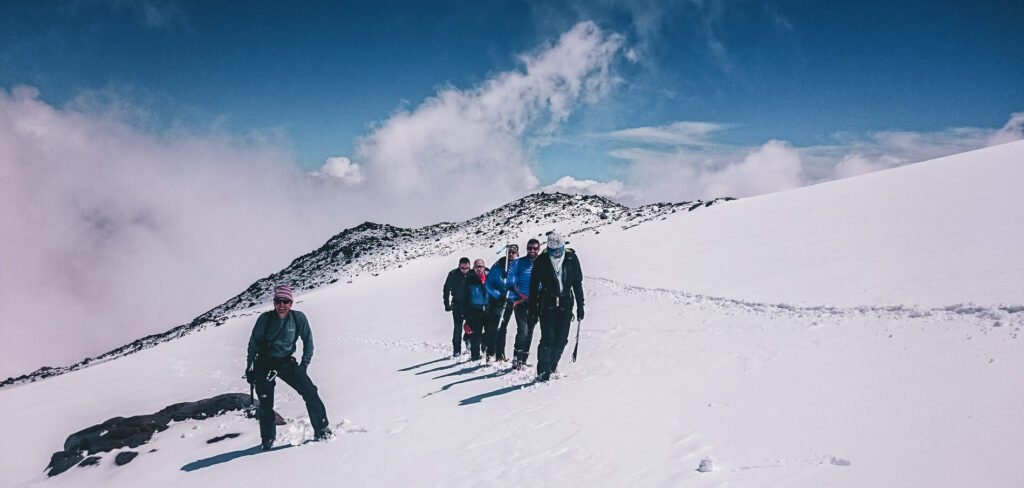 If you've heard of the Seven Summits, you've likely heard of both Mount Elbrus and Aconcagua. The highest peaks in both Europe and South America respectively, these mountains are on many a bucket list for travellers. But when it comes to climbing, is Elbrus harder than Aconcagua? Let us fill you in…
Is Elbrus harder than Aconcagua?
All expeditions that we offer are given a level, so you know what to expect before you book. Our expeditions to Elbrus and Aconcagua are both rated a level 8. So in terms of difficulty, they're actually both pretty similar…
What can I expect?
On a level 8 expedition, you can expect to trek an average of 6 to 8 hours per day at altitudes not usually exceeding 7,000 metres. Typically, it will involve one extremely long and/or tough day to reach a summit. Typical elevation gain per day would be 500 – 1000 meters, with at least one day over 1200 metres.
Added to this will be the remote location of the expedition and the fact that you will typically need to carry your own equipment. You should be comfortable withstanding harsh mountain conditions for several days in a row. The itinerary is likely to change due to weather conditions. As a rough guide, you should be comfortable walking for 8 hours per day carrying a 20kg pack for two days in a row.
How do the conditions compare?
While Elbrus isn't a technical climb, it does require the use of crampons and an ice axe. However, we do include skills days as part of the expedition, so you can practice with these. You don't need any prior experience using crampons or ice axes. The summit of Elbrus is 5,642m.
On Aconcagua, there is no technical mountaineering required to reach the top. But that doesn't mean it's easy! It is a formidable challenge requiring proper acclimatisation, adapting to high winds and extreme cold. Summit day is long and demanding, gaining 900m in order to reach the top. The summit is at 6,962m.
Trekking the North Side of Elbrus
Remember, we climb Elbrus on the North Side of the mountain. This is far more of a proper adventure! If you climb the South Side, you'll be ascending on ski lifts and cable cars to reach the final stretch. So when we compare Elbrus and Aconcagua, it's the North Side we're referring to.
If you want to read more about our expedition to Elbrus, including 2022 dates, click here. We also have an Ultimate Guide to Elbrus that will answer any other questions you may have.