To celebrate the announcement of our new Earth's Edge Extra expedition series and its inaugural trip, James is telling us all about why he's chosen to lead an expedition to Himlung Himal for the first time in 2024, the mindset required for taking on big mountains, and why he loves venturing into the unknown!
why i want to climb himlung himal
My expedition to climb Dhaulagiri (8,167m) in Nepal during Spring 2022 was one of the toughest in my life. While it wasn't physically challenging at all, the mental struggle and the loneliness were, in hindsight, really rough. I spent over a month with the risk of an avalanche at any time being ever-present, resulting in significant stress. While I love embarking on solo missions, this expedition in particular really made me miss climbing as part of a team.
When we finally managed to get out of basecamp and climb higher, my mood lifted. I was blown away by the beauty of the mountains of western Nepal. On the upper slopes of Dhaulagiri you can see hundreds of peaks in all directions, including the two other giants of the region: Annapurna (8,091m) and Manaslu (8163m). However, another mountain which caught my attention was a 7000m peak called Himlung Himal. When I learned that it was a relatively straightforward peak, I decided that I would bring a team back next year to summit it. Leading the first all-Irish team to take on Himlung Himal will be a huge honor, and no doubt great craic! It's going to be a tough one, but undoubtedly the experience of a lifetime.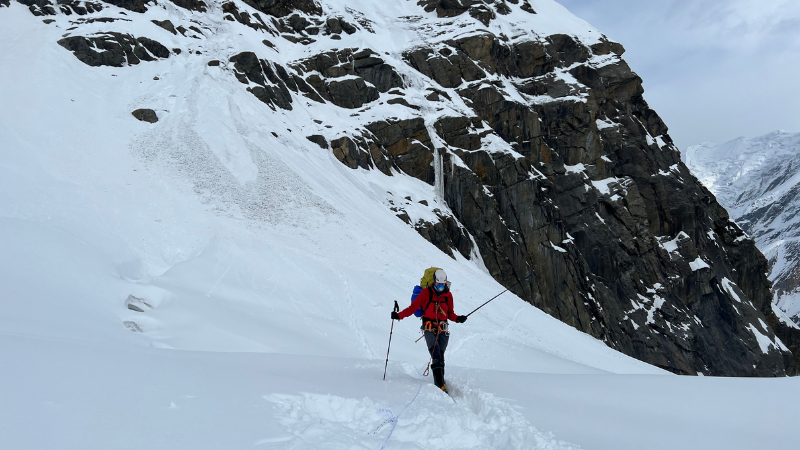 what does it take to climb a mountain like himlung himal?
People often ask me about my mindset, and the mental strength needed to climb big mountains. To be honest, it's hard to put into words because there are so many factors! Everyone draws their motivation and their strength from different places. For me, it comes from being confident in one's ability to reach the summit. This confidence comes from the training you complete and your previous experience of similar missions, not from watching motivational reels on instagram! Combining that confidence with the understanding that weather or other factors outside your control may result in you not being able to summit results in a very powerful combination. You need to be comfortable with the unknown, and capable of remaining present so that you can adapt and seize every opportunity that is presented to you. Unfortunately, so many climbers waste energy being concerned about weather reports and trying to predict when a summit day will be. It's so important to stay in the moment, to enjoy the journey, and to be focused on the process, rather than the outcome.
For "the big one", you have to be extremely resilient! As the legendary Mike Tyson said: "Everyone has a plan until they get punched in the face." Nothing ever goes exactly as planned on a big expedition, and you need to be able to make peace with that. Moreso, when you make a mistake, you have to be able to see it as positive – it's a learning experience, because mistakes are by far the best way to learn. And that's a basic principle you have to embrace.
I'm also a big believer in positive energy and its effects. Regardless of how bad the weather is, or how much pain you're in, always bring positive energy to yourself and those around you – I think the ability to do that no matter the circumstances is one of the greatest indicators of true inner strength.
what is the big expedition experience like?
What is it like being on a big expedition for a month, or more? Well, the first thing is the impact it has on your life. I always, always have a mission on my horizon. Some type of hard event or expedition, as without that sense of purpose, my mental health can really suffer. I need significant personal goals to work toward at all times. If you picture your life like a newspaper article, experiences are the full stops at the end of each sentence – they're what you're going to look back on, so it's so important to have as many meaningful ones as possible.
On an expedition, having a very "simple" goal – in this case climbing a mountain – requires your complete focus, which is a really special feeling. You don't have the bullshit stresses of everyday life to deal with, such as going to meetings, having to spend time with people you don't enjoy being around, tidying your house, personal admin, etc. – the list goes on and on! On an expedition it's just sleep, eat, poo, repeat! The simplicity is beautiful. Your body is put under serious physical stress on a mountain, especially during a summit push, but your mind gets such a beautiful rest. You just have so much time for the other people on an expedition with you, and they have that same time for you too. You get to have great conversations uninterrupted by phones and the other distractions of modern day life.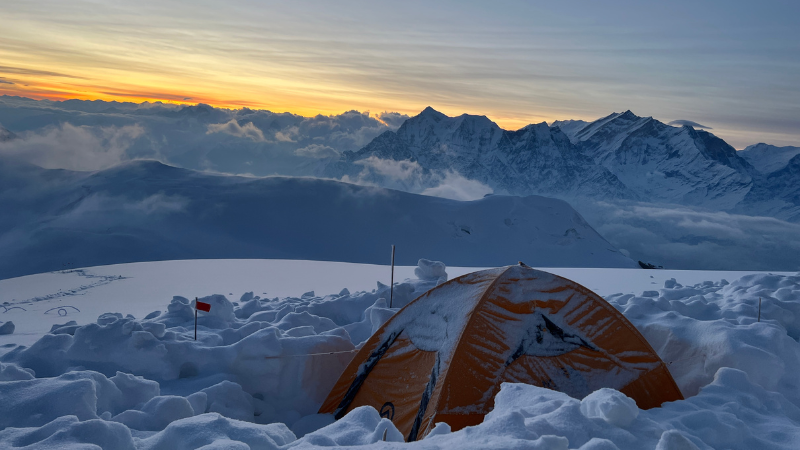 what are the differences between climbing a 6,000m peak and a 7,000m peak?
To be honest, there are actually a lot of similarities between a 7000m peak like Himlung Himal, and a 6000m peak. The trek into their respective base camps is essentially the same, the gradual and slow process of acclimatisation is the same, the camping aspect is the same. The big contrast is what happens above base camp. On a 6000m peak, you take some time to rest at base camp before (usually!) making one push for the summit. On a 7000m peak, we generally have to do one, or possibly two, rotations on the mountain prior to pushing for summit. These rotations are really important in order to allow us to acclimatise to the higher altitudes, and also to facilitate the transport of equipment to the upper camps in advance of our summit push.
On Himlung Himal, Base Camp is at 4,900m, Camp I is at 5,450m, Camp II is at 6,000m, and High Camp is at 6,350m. Depending on snow conditions and the weather forecast, we will decide on how many rotations to do prior to the summit push. On some mountains there are smaller peaks nearby which you can use for acclimatisation instead of a rotation. But really, it's an unknown and likely to change so it's best to stay present and win the day at hand. The other significant difference is the duration – it generally takes 25-35 days to climb a 7000m peak, and being able to disconnect from normal life for that duration can feel amazingly freeing. Conversely, however, it can also be quite the mental challenge being away from loved ones for such a long period of time. It all comes back to your mindset – being resilient and being willing to be present in the now. If you can do that, climbing a big mountain like Himlung is one of the best feelings in the world.
what i like about heading into the unknown
I'm really excited to climb Himlung for the first time next year. While I will be working with Sherpa who have experience on this mountain, there is something exhilarating about leading an expedition somewhere unfamiliar to me. I really love the feeling of heading into the unknown and being forced to learn and adapt as I go. I guess it's a joy I've held since being a teenager and then a young man, when my main passions were whitewater and expedition kayaking. We operated a "read and run" culture, which means you don't stop to inspect rapids, you just power through and back your skills to allow you to handle whatever comes. While mountaineering is a much safer and more controlled sport than kayaking, aspects of the mentality required for both of these adventure sports are similar.
Don't get me wrong, researching the route and possible challenges are very important, but I don't like to overdo it. Reading endless trip reports doesn't really help. In fact, it can be a negative because in general, people talk far more often about negative experiences on mountains rather than positive ones. I'm particularly looking forward to the walk toward Himlung Himal Base Camp. It's a stunning and remote part of Nepal that I have not yet visited, and I can't wait to see the incredible views. I'll go to bed every night of the trip with an open mind regarding how long we will be walking for, and what we might encounter the next day. Regardless of trip reports, I will always mentally prepare myself for a longer day than expected. It will be an immense privilege to walk in a stunning Himalayan valley for the first time, to meet new people, and just be on our feet and moving … I really can't wait for this trip.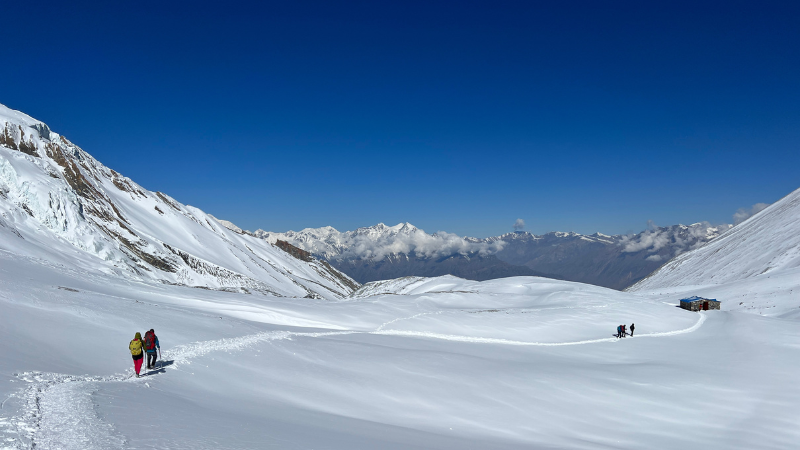 Earth's Edge Extra is our new yearly expedition series. Inspired by our passion for true adventure and real challenge, these expeditions will tackle some of the world's toughest peaks. And mountains like these call for extraordinary people to take them on. Are you one of them?
Apply now to be one of only 12 people to join James on this once in a lifetime opportunity.