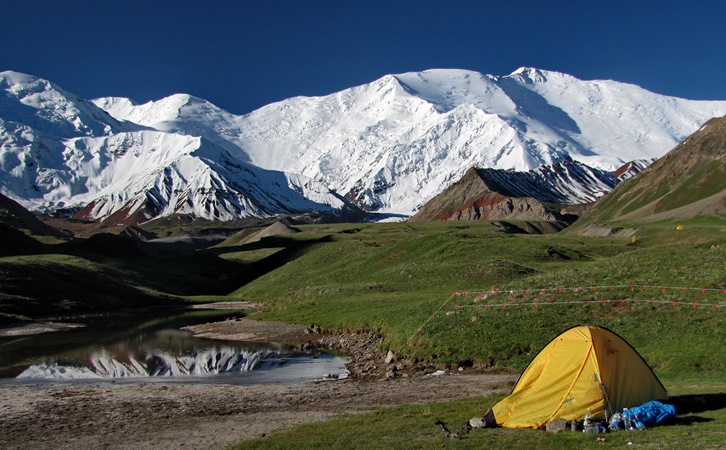 After summiting Aconcagua, we had a new expedition on our minds. We would set off to Peak Lenin in Kyrgyzstan to attempt to go above 7000m. Peak Lenin (7134m) is located in the Pamir Range on the border of Kyrgyzstan and Tajikistan. It's the third highest peak in the former Soviet Union and the second highest peak in Kyrgyzstan after Peak Pobeda (7439m). Peak Lenin, Peak Pobeda, Ismoli Somoni (7495m), Korzhenevsky (7105m) and Khan Tengri (7,010m) are the five 7000m peaks located in the former USSR. To summit, all five awarded one the title of 'Snow Leopard', the highest award for climbing in the former Soviet Union.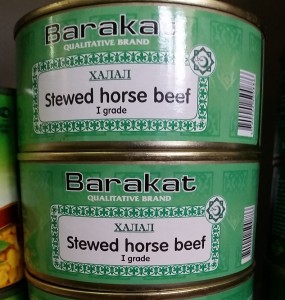 Four of us flew on a Friday in July – the team consisted of myself, James, Rob and Ronan, and a Russian guide was to join us at Base camp. We had a wee little delay which afforded us a night in a hotel in Istanbul on the way which was delightful! Back on track the next day and we flew to Osh, the second largest city in Kyrgyzstan. We slept fitfully for the morning and then headed out on a shopping expedition to buy our food and snacks for the upper mountain, having brought only a few expedition meals. We managed to avoid purchasing the stewed horse beef!
We ventured out for dinner and a few beers that night and headed for base camp the next morning. It was about a four-hour drive through the Kyrgyz countryside and steppe before we reached base camp. The day was beautifully clear and we could see the summit towering above us in the distance. Only mildly daunting. We met with our Russian guide Nikolay who informed us that we looked strong and that we were the only group this season that had gone for a hike on their arrival at Base Camp – a high compliment from a guy who's a five-time Snow Leopard!
We took an acclimatisation hike to the Puteshestvennikov Pass the next day and trekked to Camp 1 the day after, our heavier gear going by horseback along the small winding tracks up the valley.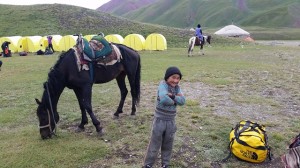 The weather changed on the journey, from hot and sunny to damp, cold and rainy – just like being at home! Arriving in camp in the bad weather, we were tired after our first proper days' exertion since departing Ireland. We were greeted by the camp staff, whose welcome more than made up for the incessant rain. We loaded our bags into the mess tent and chowed down on copious amounts of super noodles and Russian dumplings before getting set up in the tents that were to become our homes for the next couple of weeks. The adventure was finally getting underway.
Preparation
The plan was to climb the mountain in two stages. The first stage would involve acclimatisation and carrying gear and equipment up to the higher camps, Camp 2 at 5400m and Camp 3 at 6140m. After this, we planned to descend to Camp 1 or even Base Camp for resting, eating up and possibly even a shower before attempting to go all the way to the top.
We went on a small hike up a neighbouring spur the next morning to 4600m which we accomplished easily without any problems.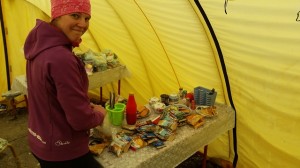 We were all feeling pretty strong and with the tasty food from the Russian chef in the kitchen, I was definitely starting to settle in. We were to leave for Camp 2 the following morning, after lunch, we took on the laborious task of planning and packing food and supplies for the upper mountain. We managed to not kill each other during this so it boded well for the team for the rest of the trip.
With the persistent rain and warm temperatures, summit rates were low for the season. There was also the extra risk of avalanches to factor in. That evening, I learnt that things can change pretty quickly on this mountain. It was decided that the weather was looking too poor to ascend the following day so we took another rest day. Instead of going all the way to Camp 2, where there was a high risk of avalanche, we got some practice in on the first section of the glacier, wearing our bags, harnesses, heavy boots and crampons while being roped up.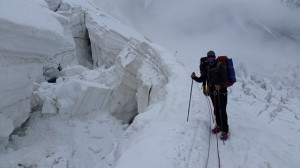 I also got my first experience of crevasses – scary stuff! Even with a blanket of cloud over us, it was hot. And a bit burny. We learnt a good lesson about the power of the sun's rays both from above and below reflecting up from the glacier. The team ascended about 300m up the glacier before turning back and crossing the moraine to Camp 1, sweaty and tired but ready to depart the next morning at 4.30 am.
We started early as planned, getting a hearty breakfast of porridge in before walking across the moraine in the dark. This took about an hour and then the real work started. Looking upwards at the steep route ahead it was hard to not feel intimidated. It took 9.5 hours and was hard, hot, steep and tiring and I could only compare it to summit days on smaller mountains I have been on.
There may have been some tears. 🙂 Upon reaching Camp 2 we got quickly into the tents to avoid the sun and start recovering for the ascent the following day. We cooked dinner in our tents and tried to get as much water on board to feed our sore muscles and heads.
A later start of 8 am the next morning saw us emerge from our tents to see the remnants of an avalanche that had passed very close to Camp 2 during the night. We made some coffee and porridge and got on our way to Camp 2.5. We took only the minimum as we felt we had brought too much to Camp 2 the day before. It was a steep climb out of camp but I was feeling much stronger having rested well. The day's ascent wasn't long, only three or four hours until we stopped just below the steep climb to Camp 3 where we constructed our own campsite in the snow.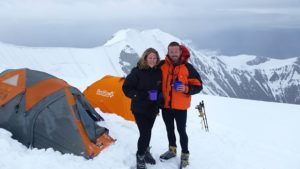 Once our own camp was set up, we watched other mountaineers pass by our tents on the way up to Camp 3, some of them seem to be on the hill for hours. We were delighted with our dinner of super noodles and even had a dessert of fruit tea and Maltesers! The cloud cleared in the evening giving us panoramic views of the Pamirs. As no one else was camping with us it seemed like we had the mountain to ourselves.
After a bad night's sleep, the team got ready for the ascent the next morning, packing up just one tent to bring to Camp 3. It's a steep climb. We managed it in about two hours and set up the tent, keeping our fingers crossed it would still be there when we returned, anchored with ice axes, blizzard stakes and snow pickets. Our Russian guide Nikolay informed us that there would be time to make it back to Camp 1 today if we pushed on. We are on – we ploughed down the hill, stopping for a quick break of cheese and crackers at Camp 2 where we deposited some equipment we wouldn't need further down the mountain before pushing on with the long trek back to Camp 1. Not as tiring as going up, but still tiring.
Once down, it was time to recuperate. We spent three days and four nights resting at Camp 1. We had the option of heading to Base camp for some real R and R but seeing as we all felt pretty good we decided to stay put. I even had a shower which was delightful! I tried to skim my equipment a bit more to ensure that I'd only carry the bare minimum up for the summit attempt as I'd carried far too much to Camp 2 the first time.
Heading for summit
We left Camp 1 earlier than the previous ascent. We decided to leave earlier to avoid the heat from the sun on the glacier as it zaps all the energy out of you and you definitely don't want to be sunburnt or suffering from heat exhaustion up there. We also decided that if we made good time we would try and push to Camp 3 in one day as for some reason none of us had any grá for Camp 2. We were getting antsy. It was time to climb this mountain.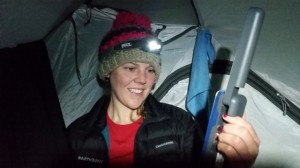 We made it to Camp 2 (5400m) in six hours taking 3.5 hours off our previous time. This was due to a few factors I imagine – less sun/heat, better acclimatised coupled with slightly less weight to carry. We were pretty happy with this progress and decided to continue on to Camp 3 (6140m). Our bags got a little heavier with some equipment we'd left at camp 2 and we felt ourselves slow on the steep climb to the saddle between Camp 2 and 3. It was tough but we pushed on. Rob started to feel pretty rough with the higher altitude but managed to push through enough to make it to Camp 3. The weather had changed when we arrived and there was now a good puff of wind and snow falling. We put up the tent and got ourselves inside for some food and warmth.
Weather hampered us again the next morning as the wind persisted and snow fell through the night. We decided not to attempt the summit and instead spent an extra night at Camp 3. It was just as well really as we were tired from our exploits the previous day. A day of rest, a lot of reading (bring a kindle!) and eating was prescribed to replenish our energy for the next day. Rob made the difficult decision to descend to Camp 1 as he still wasn't feeling well so our little team was diminishing! Everything was brought into the tent for the night to keep it warm and we kept our fingers crossed for good weather. 4 am arrived and the weather was good. We got ready inside, pulling on our boots and numerous thermal layers by the light of our headlamps.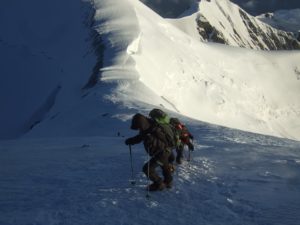 I emerged from the tent into the wind and snowdrift and we set off at a brisk pace, trying to balance breathing and staying warm. It's necessary to descend to 6000m from Camp 3 before the steepest ascent we had yet encountered which goes from that low point onto the summit ridge at 6400m. I began to feel myself struggle. The pace was fast and I could feel myself not being able to keep up. This fed into a mental struggle which goes on at pretty much every point on these trips. Am I strong enough? Can I do this? First I was too hot. I took my own pants off. Then my hands and toes started to get cold. I worried about frostbite. I wanted to rest. I wanted to catch my breath. I wanted the people behind to go in front to take the pressure off. This wasn't the place to be having these thoughts and I could see the worried looks on the three lads faces, even with ski goggles, hats and balaclavas on. When we reached the summit ridge I explained my predicament as best I could. I wanted to go slower but knew that it wasn't really an option. From here on, it wasn't going to get easier. We pushed on for a few more minutes to see if I could quicken my pace, but I couldn't. I decided to turn back. It took two hours to get back as I went so carefully and took a good few breaks to refuel and rehydrate. Once back in camp I fired up the stove for some food and tea and settled in for a long nap and then a good amount of kindle time!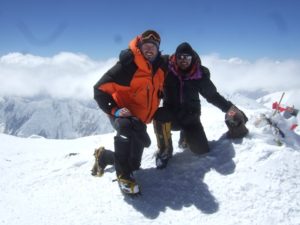 The lads continued on from that point and summited about five hours later. Peak Lenin has a lot of false summits where you continually think you are reaching the top but see that you must continue once you get there. I kept an eye on the time while they were gone and happily I spotted the three of them descending from Camp 4 at about 4 pm. They arrived back about an hour or so later, exhausted but happy. I forced food into them and we all drifted off into what counts as a fairly good sleep for 6140m. We got ourselves packed up the following morning and made the long journey back to a deserted Camp 1 where we celebrated with my favourite mountain drink- Coca Cola! We descended to base camp the next day after an evening of food, laughter and congratulatory cake. A car took us back to Osh after a late lunch enjoyed in base camp. The day was again clear as we departed, and we watched the mountains slowly fade out of view as we motored our way back to civilisation.