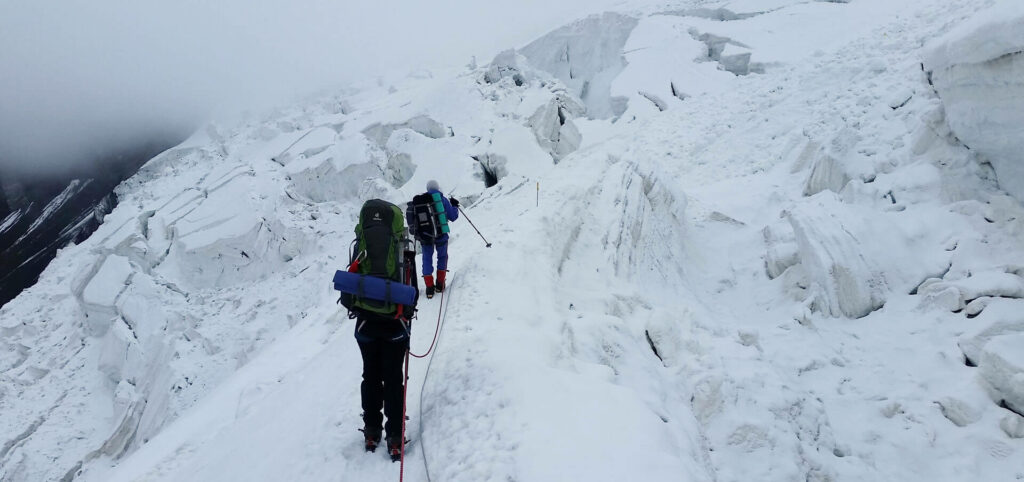 The climb to the top of Peak Lenin is a tough one. And the conditions don't make life any easier. The combination of high winds, extreme cold and a very long summit night mean that you need to make sure you're well kitted out. It's important to make sure you have exactly the right gear. Trust us, you don't want to be chilly when you're attempting the summit! But don't worry. When you book our expedition, we send you a comprehensive Peak Lenin Packing List. That way, you can tick off everything you need as you pack. Here's a little taste…
Peak Lenin Packing List
Boots and socks
Synthetic mountaineering boots.
Trekking boots
Sandals (to wear in transit, at lower altitude when not trekking and to cross streams and rivers on approach to base camp).
Down booties or runners to wear at high altitude camps.
Mid-weight hiking socks x 3.
Heavyweight hiking socks x 2.
Lightweight liner socks (for summit night).
Clothing
Underwear – Synthetic rather than cotton underwear is advisable.
Shorts x 1.
Lightweight trousers to wear as far as basecamp x 1.
Softshell trousers x 1.
Synthetic/wool long johns x 2 (for night time use and summit night).
Waterproof trousers
Long sleeve base layer x 2 (silk, wool, or synthetic).
Short sleeve base layer x 2 (as above).
Jackets and accessories
Mid weight fleece, down or soft shell jackets x 2.
A down jacket. It must be heavy weight with a hood (at least 900 grams in weight).
Waterproof jacket.
A fleece hat to wear in the mornings and evenings.
Buff.
Category 3 or 4 sunglasses.
Category 3 or 4 ski goggles.
Sun hat with a wide brim to cover the face and neck.
One pair of thin synthetic liner gloves for use as a base layer and sun protection.
A pair of heavy mountaineering gloves.
One pair of heavy down mitts.
Equipment
Walking poles.
12 point crampons.
Climbing harness, 120mm closed sling & two screw gate carabiners. (If you do not have a climbing harness, a sling & two screw gate carabiners we will provide them for you.)
Rucksack (75+20 litres).
Duffel bag (120-150 litres).
Small duffel bag (30 litres) to leave at basecamp with any clothes or equipment you don't need on the trek.
Dry bags.
Water bottles.
Water bottle insulators for each of your bottles.
A 500ml thermos flask.
A warm sleeping bag (comfort rating of -20°C or lower).
Sleeping bag liner (This helps to keep your sleeping bag clean and adds an extra season).
Spare laces.
Toiletries
Suncream at least factor 30.
SPF lip balm.
Insect repellent, deet based products are best.
Hand sanitizer. You need to have enough supplies for the duration of your expedition.
Personal toiletries, N.B as little as possible, if you are travelling with friends try to share toiletries. * Wet wipes and a nail brush are very useful.
Toilet roll.
Don't forget, when you sign up to an Earth's Edge expedition you get a loyalty card with our equipment partner, Great Outdoors. The staff here are seriously knowledgeable and can help get you kitted up with everything you need. Plus, you get a 15% discount until the day of your expedition.
To read more about the Earth's Edge expedition to Peak Lenin, click here.