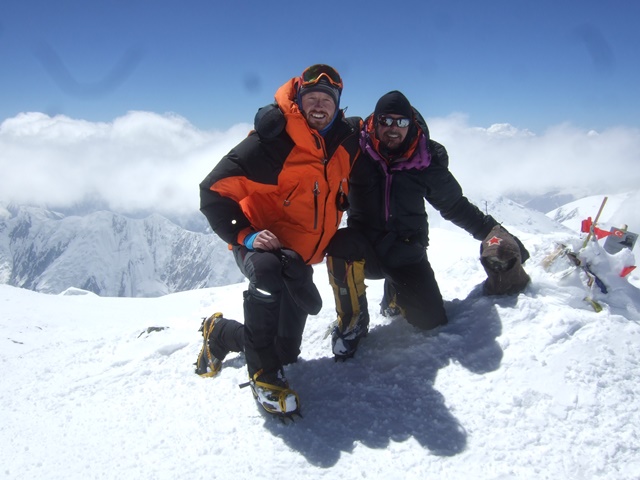 Fancy a really epic challenge? Peak Lenin is one of the best! Towering at a staggering 7,134m, Peak Lenin is the third highest peak in the former Soviet Union and the second highest peak in Kyrgyzstan. People often refer to it as the easiest 7,000m peak to climb, but don't be fooled. Tackling acclimatisation, high winds, extreme cold and a long summit day make it a tough challenge. If you want to find out what summit day is like on Peak Lenin, read on…
What summit day is like on Peak Lenin
In short? Summit day is extremely tough. You're dealing with altitude, fatigue, and challenging weather. The journey to reach the summit ridge is completed before sunrise, which means the temperature is an additional challenge. On the ridge itself, there are two more significant steep sections. One of these is exposed and has fixed ropes. Generally, the summit ridge is very wide and undulating.
How long does it take to summit Peak Lenin?
Summit day is 15 hours long. It typically takes 10 hours to reach the summit and 5 hours to return to Camp 3.
How long does it take to get to summit day?
Our expedition is 23 days long, including travel from Ireland. We have 13 days of trekking before our first allocated summit day. However, this includes four rest days, as well as training days, where we practice our skills. There are also acclimatisation hikes. This itinerary helps us to acclimatise gradually, which gives us the best chance of a successful summit.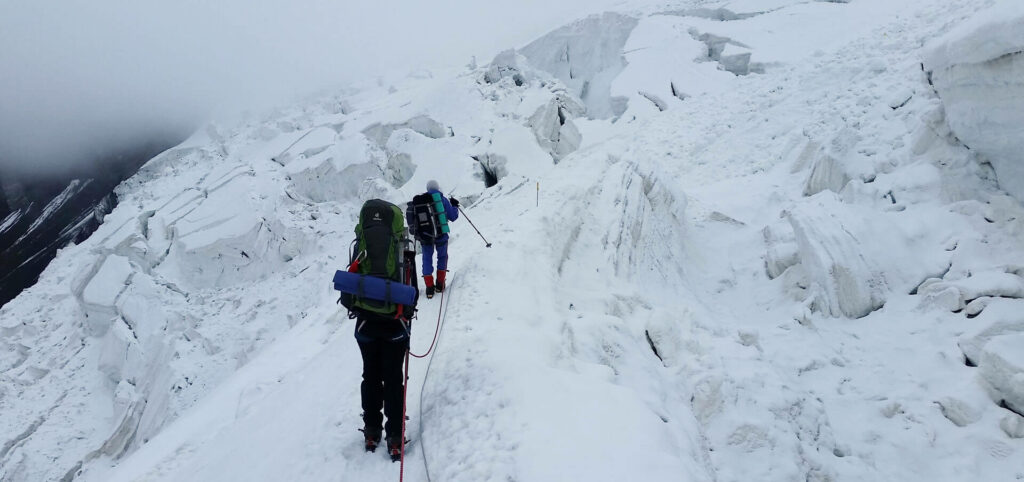 What happens if I can't summit?
Our expedition to Peak Lenin is a level 9 expedition. It is an exceptionally tough challenge, and you need to have an exceptional level of fitness to partake. Even at that, there are plenty of reasons why someone may not be able to make the summit. Sometimes, deciding to turn back is the bravest decision you can make. If this happens, for whatever reason, you will be assisted back to a lower level. This is often a decision that is made with the expedition leader and doctor.
We create our itinerary to give ourselves the best chance at summiting, but conditions on the mountain mean it's simply not always possible. Our schedule gives us the best possible shot at it, though. We have four potential days where we can summit built into the itinerary.
How it feels…
To understand the reality of trying to summit Peak Lenin, here is a story from one of our trip reports…
"I emerged from the tent into the wind and snowdrift and we set off at a brisk pace, trying to balance breathing and staying warm. It's necessary to descend to 6000m from Camp 3 before the steepest ascent we had yet encountered which goes from that low point onto the summit ridge at 6400m.
"I began to feel myself struggle. The pace was fast and I could feel myself not being able to keep up. This fed into a mental struggle, which goes on at pretty much every point on these trips. Am I strong enough? Can I do this? First I was too hot. I took my own pants off. Then my hands and toes started to get cold. I worried about frostbite. I wanted to rest. I wanted to catch my breath. I wanted the people behind to go in front to take the pressure off.
"This wasn't the place to be having these thoughts and I could see the worried looks on the three lads faces, even with ski goggles, hats and balaclavas on. When we reached the summit ridge I explained my predicament as best I could. I wanted to go slower but knew that it wasn't really an option. From here on, it wasn't going to get easier. We pushed on for a few more minutes to see if I could quicken my pace, but I couldn't.
Turning back
"I decided to turn back. It took two hours to get back as I went so carefully and took a good few breaks to refuel and rehydrate. Once back in camp I fired up the stove for some food and tea and settled in for a long nap and then a good amount of kindle time!
"The lads continued on from that point and summited about five hours later. Peak Lenin has a lot of false summits where you continually think you are reaching the top but see that you must continue once you get there. I kept an eye on the time while they were gone and happily I spotted the three of them descending from Camp 4 at about 4 pm. They arrived back about an hour or so later, exhausted but happy."
You can read the rest of Rosie's excellent trip report here.
To read all about our expedition to Peak Lenin, click here.