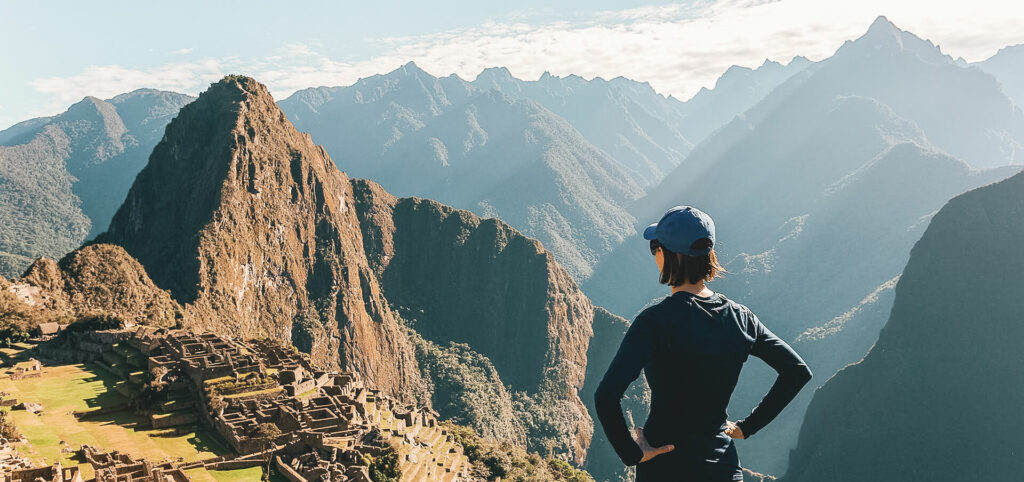 When you're heading off half way around the world on an epic trek, you need to pack carefully. After all, you've got a lot of things to think about – changing temperatures, bad weather and a hell of a lot of underwear! If you're heading off to Peru and are wondering what to bring to Machu Picchu, this post may be helpful.
What to bring to Machu Picchu
A packing list for Machu Picchu is pretty simple. You need trekking clothing, boots, hats, sunglasses, toiletries and medication. When you book onto an Earth's Edge expedition we send you a comprehensive packing list. But this post will get you started…
Clothing
Walking boots (make sure they're well broken in)
Runners or sandals (to wear in transit & around camp)
Mid-weight hiking socks x 3
Underwear (synthetic rather than cotton)
Shorts x 1 (knee length or below)
Lightweight trousers x 1
Synthetic/wool/silk long johns
Waterproof trousers (N.B. make sure the trousers have zips to the knee at least).
Long sleeve base layer x 1 (silk, wool, or synthetic)
Short sleeve base layer x 2 (as above)
Mid weight fleece x 1
A down jacket (at least 600 grams in weight)
Waterproof jacket
Waterproof poncho
Accessories
A fleece hat to wear in the mornings and evenings
Sunglasses (category 3)
A sun hat with a wide brim to cover the face and neck
A pair of lightweight wool or synthetic liner gloves
A pair of waterproof gloves or mitts (down mitts are preferable)
Equipment
Walking poles
Small rucksack for day use (30 to 35 litres)
A large suitcase or holdall carry your equipment to Peru
Dry bags or plastic bags
Water bottles and water bladder – you must have the capacity to carry three litres of water while walking
A warm sleeping bag (comfort rating of -15°C or lower)
Suncream at least factor 30
SPF lip balm
Insect repellent, deet based products are best
Hand sanitiser – you need to have enough supplies for the duration of your expedition. Remember, it's better to be looking at it than looking for it
Toiletries (as few as possible! Wet wipes and a nail brush are very useful)
Personal first aid kit
Rehydration salts
Plasters
Compeed
Paracetamol
Ibuprofen
Buscopan
Throat lozenges
Nasal spray
Decongestant such as Sudafed
Antibiotics suitable to treat traveller's diarrhoea
Incidentals
Small towel for washing
Personal snacks (like sweets, energy bars and chocolate)
Headtorch with spare batteries
Swimming togs/shorts for the hot springs
A spare set of clothes to wear after you finish the expedition
A photocopy of your travel insurance and passport
Your vaccination booklet
If you want to read more about our expedition to Machu Picchu, including 2022 dates, click here. You can also read our Ultimate Guide to Machu Picchu here.