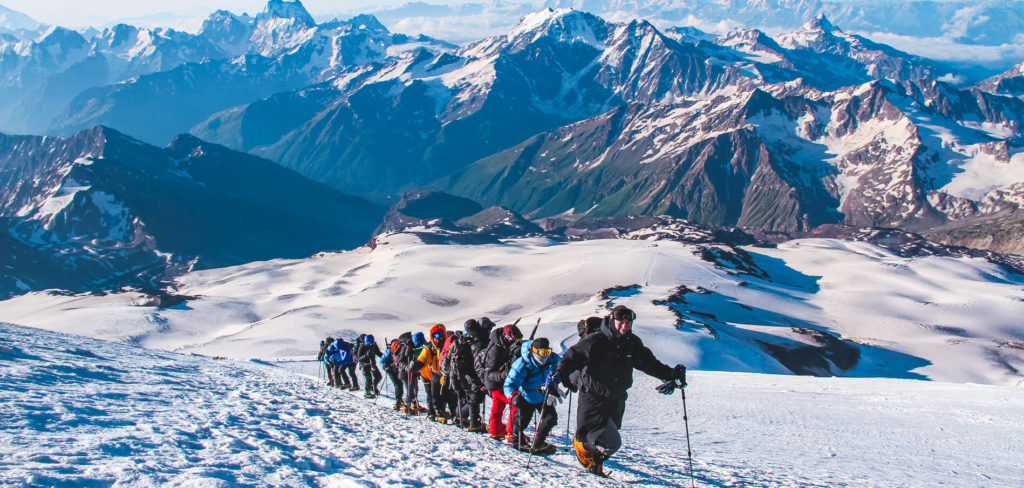 The highest peak in Europe, Mount Elbrus makes for an epic expedition. Located in Russia's stunning Caucasus mountain range, the setting in unbelievable. This range separates the Black Sea and Caspian Sea, and stretches out for almost 1,000km. As you might imagine, it's a remote location to reach. If you're wondering "Where do you fly into for Elbrus?" this post has the answers…
Where do you fly into for Elbrus?
On the Earth's Edge expedition to Elbrus, we take an overnight flight into Moscow. We then get an internal flight to Mineralnye Vody before the drive to the pretty spa town of Pyatigorsk, which only takes around an hour. Remember, when you book onto an Earth's Edge expedition, your flights are included and all the transfers are taken care of (unless you'd rather book your own).
How do you get to Elbrus?
After an overnight in a hotel in Pyatigorsk, we drive for four hours through rural countryside to reach Emmanuel Meadows (2,200m). After camping for the night, we carry our gear to base camp the next morning.
How to get down from the summit
After two days assigned as summit attempts, we move back towards base camp in the Emmanuel meadows. The following morning, we drive to Pyatigorsk and have an afternoon at leisure before a celebratory meal that evening. The following day we fly back to Dublin.
Can I book my own flights?
If you're not joining us from Dublin, or want to extend your trip, you are more than welcome to organise your own international flights. There is a different price for the expedition if you want to book without flights. When you book, we'll tell you where you need to meet us and can help you with transfers and the like.
If you want to read more about our expedition to Elbrus, including 2022 dates, click here. We also have an Ultimate Guide to Elbrus that will answer any other questions you may have.