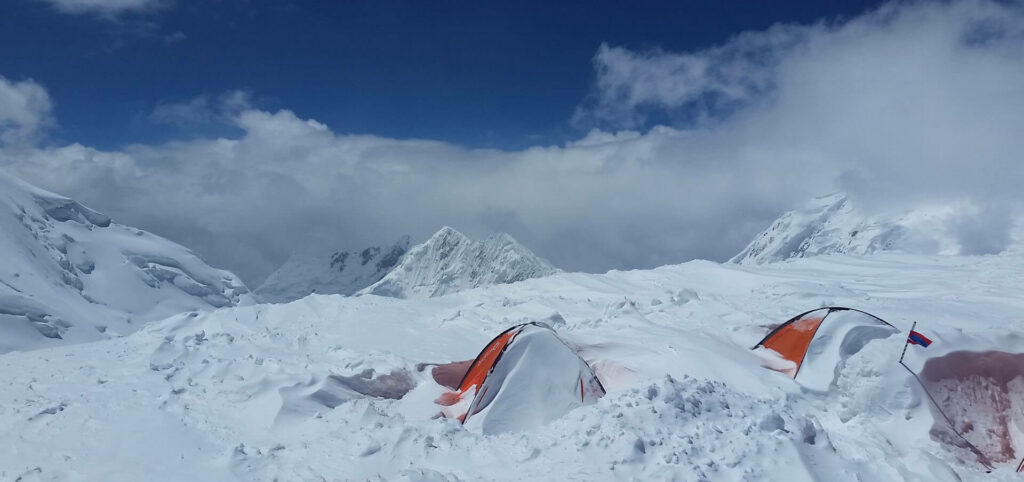 Are you ready for a proper challenge? If so, prepare to get seriously excited. This week, we launched our brand new expedition to Peak Lenin. And it's our toughest one yet! A 7,134m peak, this mountain is an absolute beast. You're facing high winds, extreme cold and a long summit day on this 23 day expedition. But the feeling you get on the summit? Makes all the aches, pains and strains 100% worth it. So, what exactly are you up against?
Peak Lenin: How hard is it?
You know the levels we give all of our trips? This expedition is our very first Level 9 trek. To put that in perspective, Everest Base Camp is a level 4, Kilimanjaro is a level 5, and Aconcagua is a level 8. We would categorise Mount Everest as a level 10 expedition. That should give you an idea of what an epic challenge Peak Lenin is. This is the toughest expedition we currently offer.
Who is it for?
Peak Lenin is a mountain that's only suitable for those that are both physically and mentally tough. It's such a ferocious challenge that you have to be 100% ready for it. And even those who are don't always make it to the summit. There's an excellent trip report from Rosie McManus, who tackled this trek in 2015. In it, she talks about her decision to not summit and it's an excellent tale of why summiting should never be your only goal.
Count me in! How do I sign up?
Because this expedition is such a unique challenge, we're making sure that we're heading out with the right team. That's why you can't instantly book a place, like our other trips. Instead, you can apply using this form, so we can get an idea of your experience and fitness. Applications close on 18th November 2021, and you can submit an application here. Ideally the right candidates will have experience at high altitudes and climbing mountains over 5,000m.
When is it?
We're running this expedition with a small group on 6th – 28th August 2022. It's a 23 day trip, and costs €5,799 inclusive of flights from Ireland, transport, accommodation, food, guide and doctor and all group gear. A €399 deposit will secure a spot on the expedition.
5 facts about Peak Lenin
Peak Lenin is located in the Pamir Range on the border of Kyrgyzstan and Tajikistan.
It is the third highest peak in the former Soviet Union and the second highest peak in Kyrgyzstan after Peak Pobeda (7,439,).
Peak Lenin, Peak Pobeda, Ismoli Somoni (7,495m), Korzhenevsky (7,105m) and Khan Tengri (7,010m) are the five 7000m peaks located in the former USSR. To summit all five awarded one the title of 'Snow Leopard' which is the highest award for climbing in the former Soviet Union.
Peak Lenin is often referred to as the world's easiest 7,000m peak and is technically no harder than Elbrus or Mont Blanc. But don't let that fool you! The complexities of proper acclimatisation, high winds, extreme cold and a long summit day make Peak Lenin a formidable challenge.
In 1928, three German mountaineers were the first to reach the summit of Peak Lenin. At that time, it was the highest summit reached by men.