Standing at a height of 6,476m, Mera Peak is the highest trekking peak in Nepal. And when you make it to the summit, you have one heck of an incredible view there to greet you. On a clear day we will be able to see hundreds of huge peaks, including five of the world's six highest peaks, Everest (8,848m), Lhotse (8,516m), Cho You (8,201m), Makalu (8,481m) and Kangchenjunga (8,586m). Which means you want to make sure the conditions are as good as they can be… after all, you won't want to miss that epic view! If you want to know when the best time to climb Mera Peak is, we've got the info for you…
Best time to climb Mera Peak
The best time to tackle this trek is in the spring or the autumn. At those times, the weather and conditions are at their most favourable. However, temperatures can still vary wildly. It can vary from 0 to 30 degrees during the day and -30 to 10 degrees at night. It's best to be prepared for lower temperatures due to wind chill or the weather turning bad. Usually, the days are hot and the nights are cold.
What equipment do I need?
You will need some specialist kit for climbing Mera Peak. First off, you need a pair of synthetic mountaineering boots, like La Sportiva G2SM, Scarpa Phantom 6000 or similar. If you don't have synthetic mountaineering boots, you may be able to rent them. You'll also need your regular trekking boots, too. If your boots do not have a built-in gaiter, you'll need gaiters too. You'll also need 12 point crampons, a walking ice axe (60 – 70cm) and two sling (approx size 120cm x 10mm). Finally, you'll need a climbing harness and two screw gate carabineers
If you don't have crampons, an ice axe, slings, harness or carabineers we will provide them for you. Don't forget, when you sign up to an Earth's Edge expedition you are entitled to a loyalty card with our equipment partner, Great Outdoors. The loyalty card entitles you to a 15% discount until the day your expedition departs.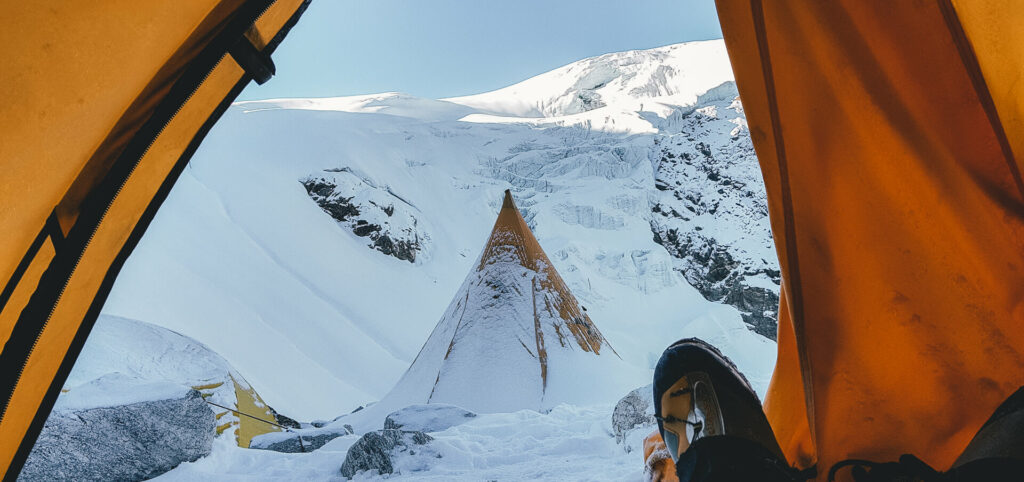 When can I climb Mera Peak 2022?
We currently have an expedition to Mera Peak scheduled for 12 October – 3 November 2022. There's also an expedition on 14 October – 5 November 2023.
You can read all about our expedition to Mera Peak here. We also have an Ultimate Guide to Mera Peak with plenty of blog posts in one place.