Mera Peak is one of the most beautiful mountains in the world. Standing at a height of 6,476m, it's right on the edge of Khumbu region, and steeped in mountaineering history. Reach the summit, and you'll be surrounded by hundreds of mountains, including five of the world's six highest peaks, Everest (8,848m), Lhotse (8,516m), Cho You (8,201m), Makalu (8,481m) and Kangchenjunga (8,586m). If this sounds like your idea of heaven, read on for the Earth's Edge ultimate guide to Mera Peak… hopefully, we'll answer all of your questions!
Ultimate guide to Mera Peak
How hard is it to climb Mera Peak?
In short? It's pretty tough! You need to have a good level of fitness, and previous experience on mountains above 5,000m is essential. At Earth's Edge, we give all of our expeditions a difficulty level, so you know what to expect. Our Mera Peak expedition is a Level 7. This means you can expect to trek an average of 6 to 8 hours per day at altitudes not usually exceeding 6,500 metres. Typical elevation gain per day would be 500 – 1000 meters, with at least one day over 1000 metres. Added to this will be the remote location of the expedition. By comparison, Kilimanjaro is a Level 5, Kang Yatse II is a Level 6, and Aconcagua is a Level 8.
Read more about how hard it is to climb Mera Peak in our blog post.
How long does it take?
The Earth's Edge expedition takes 23 days in total. We take the road less travelled on our way to base camp, weaving through some incredible scenery and traditional Nepalese villages. Our route is chosen not only for its beauty, but for its ability to help us acclimatise at a good pace. We have two rest and acclimatisation days built in, too. Once we're at Mera Peak, our itinerary includes spare summit days to facilitate the adverse conditions on the mountain.
Read more about how long it takes to climb Mera Peak in our blog post.
Is it safe to climb Mera Peak?
With any expedition, there is a certain amount of risk. But at Earth's Edge, safety is our number one priority. We send an international guide and doctor one every single expedition, while keeping group sizes sustainably small. Mera Peak is a tough challenge, so climbing with a good team is integral when it comes to keeping yourself safe.
Read more about if it's safe to climb Mera Peak in our blog post.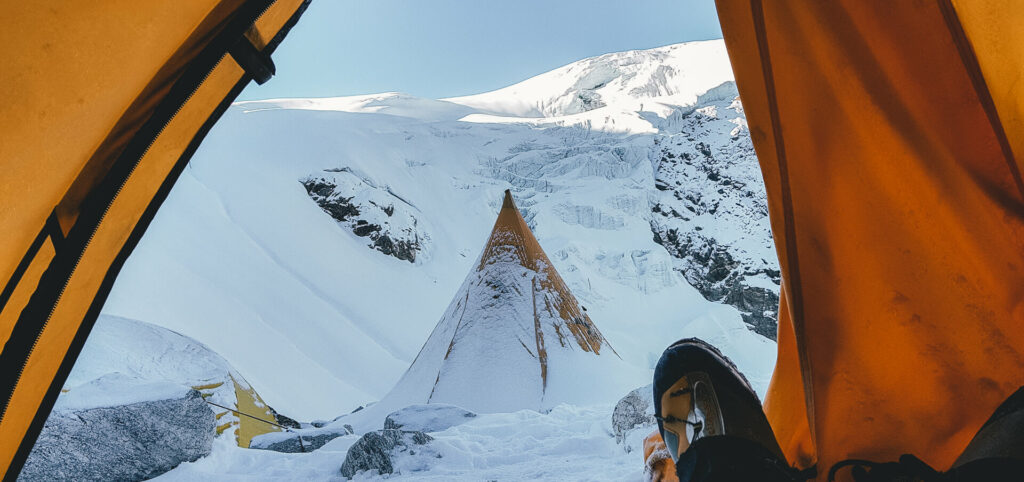 How much does it cost?
The Earth's Edge expedition to Mera Peak currently costs €5,499. This includes all your flights from Dublin, and your internal flights too. When you're booking an expedition, it's important to know exactly what is covered. Our expedition covers basically everything, bar travel insurance, vaccinations, visas and a bit of spending money.
Read more about how much it costs to climb Mera Peak in our blog post.
How do I cope with altitude sickness?
Acute mountain sickness (AMS) can affect anyone, regardless of their health or fitness. At an altitude of 6,476m, Mera Peak presents difficulties when it comes to increasing elevation. But that's why we take a slow and considered route both to base camp and up the mountain itself. Trekking slowly and being aware of altitude is the best way to tackle it. Our doctors (as well as our guides and porters) are trained to help you cope at altitude. The most important thing to remember? Drink plenty of water, go slowly, eat plenty and be sure to tell our expedition doctor the moment you feel unwell.
Read more about coping with altitude in our blog post.
What do I need to pack?
It's tough enough to plan for any trip that's 23 days long, so you need to consider your gear for Mera Peak early on! When you book with Earth's Edge, we send you a comprehensive packing list, so you'll know exactly what you'll need. As well as all of the clothing, you'll also need hiking poles, water bottle and bladder, sleeping bag, rucksack and good, worn in hiking boots.
How do I train for Mera Peak?
Like any expedition, the training you do beforehand is super important. It also means that, the fitter you are, the more enjoyable the expedition will be! Mera Peak is a challenging mountain. You need to make sure your level of fitness is excellent before taking it on. The best way to do this? Combining hillwalking with cardio training.
Read about how to train for Mera Peak here.
What is summit day like?
In a word? Incredible! But it's a tough challenge. The journey to the summit and back takes around 12-14 hours and starts at 3am. Technically, it's fairly straightforward. But the snow conditions make it very challenging.
Read more about what summit day is like here.
If you want to read all about our expedition to climb Mera Peak, click the link go to our expedition page.