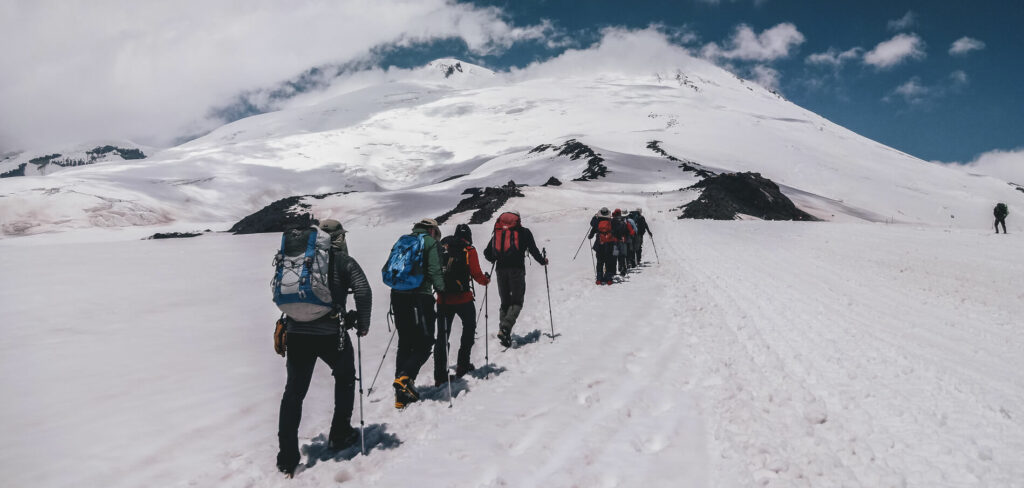 Standing at a height of 5,642m, Mount Elbrus is a formidible challenge. The tallest peak in Europe, Elbrus is a beast of a mountain, and the wildly erratic weather conditions, snow and ice make it a tricky enough summit at the best of times. If you're wondering whether or not you can climb Mount Elbrus without a guide, here's the information you need…
Mount Elbrus without a guide
Unlike some other mountains, like Kilimanjaro, you technically don't need to climb Elbrus with a guide. There are no rules or laws that state you have to be accompanied. However, unless you are a highly experienced mountaineer with experience of high altitude peaks (and an ability to speak Russian) we highly recommend you don't.
Why climb with a guide?
We get it – you might be a lone wolf who wants to get to the summit on your own. But on a mountain like Elbrus, it's safer, more ethical and, let's face it, a lot more fun to hike with a guide and a group. When you join an Earth's Edge expedition, you have an international guide and doctor accompanying you, as well as a local team of porters and guides. This means everything is taken care of, from permits and navigation, to internal travel and food.
What's included on an expedition?
On our trek to Elbrus, the following is all included…
International flights from Dublin to Moscow (Economy Class) (UK flights not included)
Internal flights in Russia
Experienced Irish/UK expedition leader
Experienced Irish/UK expedition doctor
Training Weekend
Local guides, permits and park fees
All accommodation based on twin sharing in hotels in Moscow and Pyatigorsk and camping elsewhere
All meals and drinking water except in Moscow and Pyatigorsk where accommodation is based on B&B
A celebratory dinner
Transport throughout the expedition
Group gear consisting of first aid kits, mountaineering equipment, cooking equipment etc
All you need to take care of is your own personal gear, insurance and spending money. You can read a more in depth post about everything that's included on an expedition to Mount Elbrus here.
If you want to read more about our expedition to Elbrus, including 2022 dates, click here. We also have an Ultimate Guide to Elbrus that will answer any other questions you may have.