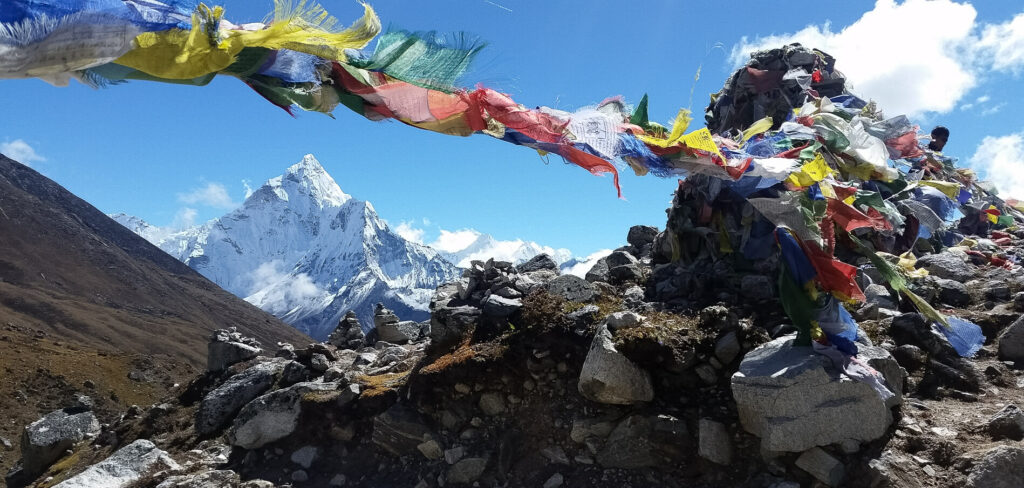 The trek to Everest base Camp is one of the most beautiful in the world. And it's also one of the most evocative, when you consider that everyone who has reached the summit of Everest in Nepal has also walked this path. It's also a fairly long trip – the Earth's Edge expedition to Everest Base Camp is 18 days long, including travel. So you're probably wondering about budget! If you want to know how much to hike Everest Base Camp, keep reading…
How much to hike Everest Base Camp
There are many factors at play when planning a budget for the trek to Everest Base Camp. You need to factor in international flights, accommodation in teahouses, meals, drinking water, guides and sherpas. On an Earth's Edge expedition, all of this is included so you don't have to think about it at all.
*Our expedition to Everest Base Camp currently costs €3,999. 
What's included?
International flights from Dublin to Kathmandu return (Economy Class)
Internal flights in Nepal
Experienced Irish/UK expedition leader
Experienced Irish/UK expedition doctor
Training Weekend
Local English speaking guides, cooks and support team
All accommodation based on twin sharing in hotels in Kathmandu and in guest houses elsewhere
All meals and drinking water except in Kathmandu where accommodation is based on B&B
A celebratory dinner
All transport throughout the expedition
All group gear consisting of first aid kits, mountaineering equipment, cooking equipment etc
Trekking Everest Base Camp from the UK
You can also join our trek from the UK, and book your own international flights. To do this *currently costs €3,299. This is also the best option if you'd rather book your own international flights, if you would like to extend your trip or travel elsewhere. 
You can read all about our expedition to Everest Base Camp by clicking the link. We also have an Ultimate Guide to Everest Base Camp, which has information on everything from training to altitude, food to packing lists.
*Prices in this blog are reflected at the time of writing (October 2021). These prices are subject to change