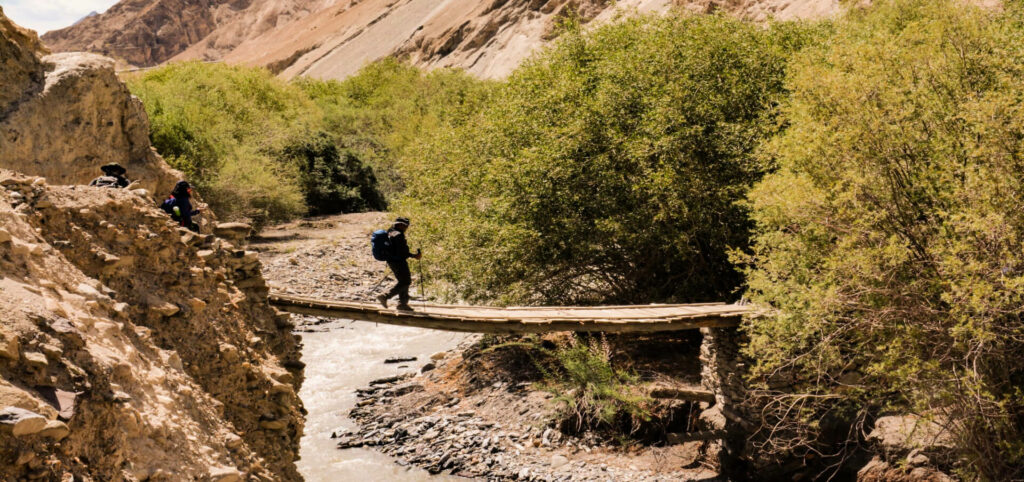 It's one of the most beautiful treks in the world. Deep in the Indian Himalayas, Kang Yatse II is 6,250 meters tall, with the view from the top one of the best in all of the Himalayas. And the trek to the summit is a beauty, too. You'll be able to see Zanskar and Karakoram ranges including K2 (8,611m), the second highest peak in the world. But it's also a fairly remote mountain. If you're thinking of climbing it but want to know how to get to Kang Yatse II, we've got you covered…
How to get to Kang Yatse II
The mountain itself is in the Markha Valley, in the Ladakh region of northwest India. Our expedition to the top of the mountain takes 16 days in total, including travel time.
Getting to India
We kick things off by flying to Delhi from Dublin, on an overnight flight. Remember, your flights are included on an Earth's Edge expedition. But if you're flying from the UK or elsewhere, or want to travel on different dates, you can also book your own. There's a price for booking the expedition with or without flights, so you can do whatever suits!
A day in Delhi
When we arrive, we transfer to the hotel and have a day at leisure. You can rest, explore the city or do some sightseeing before staying overnight in the city.
Fly to Leh
The next day, we fly on to Leh, the capital of Ladakh. This is an incredible one hour flight over the greater Himalaya with spectacular views of K2 (8,611 m) among others. We stay in Leh overnight, in a hotel. The next day we have free to explore and acclimatise. Leh is a beautiful city, with monasteries such as Shey, Thikse and Hemis. But you can also take things a little easier and wander around the shops and markets.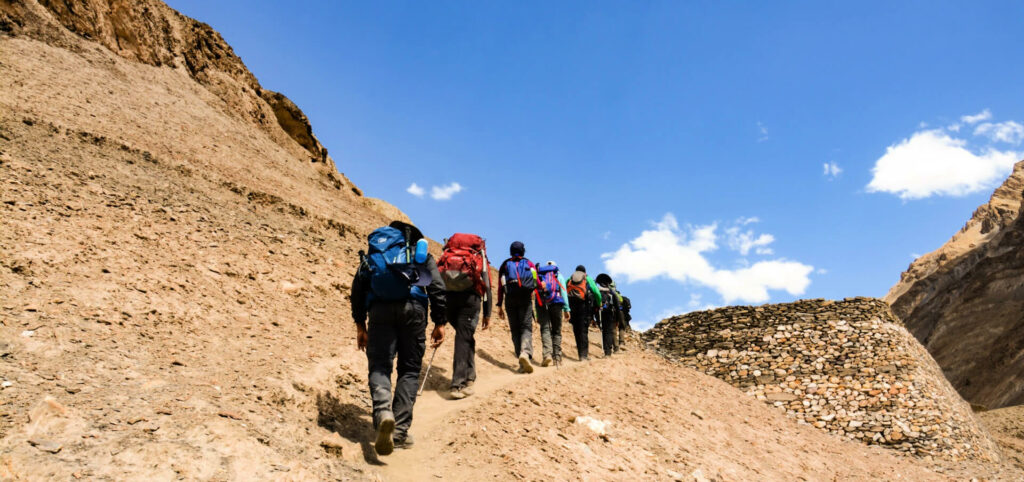 The trek begins
The next day, we drive for two hours to Chilling village on a beautiful route. From there, we use a cable trolley to cross the roaring Zanskar river, which is an exciting experience in itself! Then our trek begins, as we hike to Skiu and camp overnight.
Exploring the Markha Valley
The next few days are spent trekking this beautiful valley, getting our first view of Kang Yatse on day seven. We see some incredible sights along the way, from boulders balanced on earth spikes to a beautiful plateau called Nimaling.
On the mountain
We reach Base Camp on day nine, and rest there on the next day to acclimatise. On day 11, we climb up to Advanced Base Camp and rest before attempting the summit just after midnight. It's a long but amazing day, with unbeatable views from the top. We then return to Base Camp for the night.
Getting back
It's a tough old trek back off the mountain. From Base Camp we trek to Chuskirmo and camp there. We then walk for 2 hours to reach Shang Sumdo and then drive for two hours to reach Leh, where we spend the night. And have a hot shower! The next day we fly back to Delhi where we have another day to explore, before flying back to Dublin the day after.
If you want to find out more about our expedition to climb Kang Yatse II, click here. You can also read our ultimate guide to Kang Yatse II here.