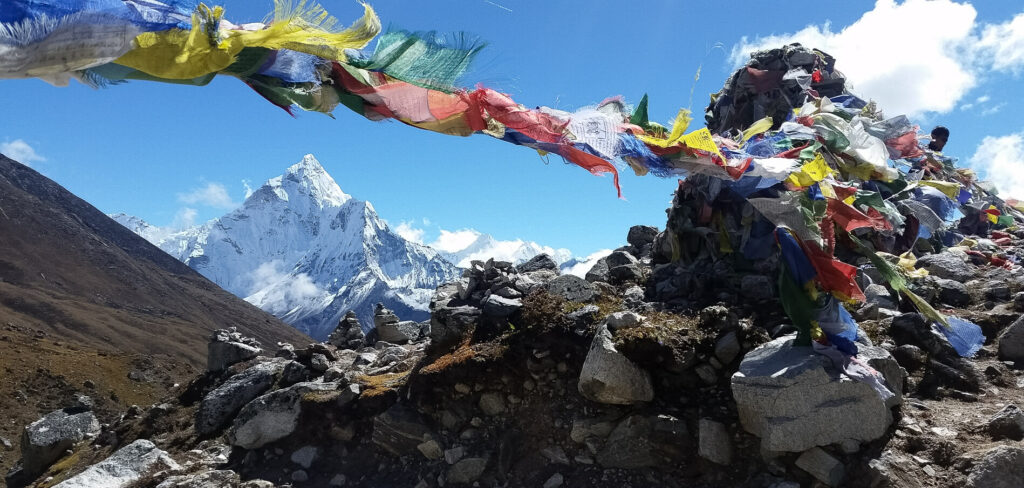 When you're trekking to Everest Base Camp, you really get a sense that you're somewhere special. And it's not just the fact that so many have walked this path before you. Or the gravitas that the name Everest holds. It's the beauty of the Khumbu Valley, the majesty of the Himalayas. But most importantly, it's the magic of the Nepalese people. On our expedition to Everest Base Camp, we place a real importance on absorbing the culture as much as possible. We spend time in the market town of Namche Bazaar and visit the local Sherpa museum, too. If you want to learn a little more about Nepalese culture, read on for Inside the Culture Nepal…
Inside the Culture… Nepal
Nepal is probably best known for the Himalayas and the incredible landscape of the country. But this also gives us an idea of the Nepalese people. Often living in difficult conditions and at altitude, Nepalese people are incredible resilient. They are also religious and spiritual, particularly when it comes to honouring the natural world.
Mount Everest
Sherpa people believe that Mount Everest is a sacred mountain. They believe that it's blessed with a spiritual energy, and that anyone who passes through should honour it. Everest is not a mountain to be conquered, but to be honoured. They also believe that karma is amplified on the mountain and its surrounds. Which is why it's important to be respectful and honourable.
The people
You've probably heard the word Sherpa many times. But did you know that Sherpas are a Tibetan ethnic group? Sherpas are native to the mountains of Nepal, Tingri County and the Himalayas. The word Sherpa has also come to mean someone who aids climbers on mountains. But it's important to remember that the Sherpa people are far more than just this one facet. That said, many Sherpas are highly regarded as experts in the field of mountaineering. They know these peaks well and can move swiftly and safely at altitude. One of the highlights of our expedition is visiting the local Sherpa museum, where you'll learn all about the Sherpas.
Nepalese food
One of the highlights of any trek is the food, and on the trek to Everest Base Camp you're sure in for a treat. Nepalese food is hearty, warming and the ultimate fuel you need at altitude. Highlights are dishes like Dal Bhat, a staple in Nepalese cuisine. It varies wherever you go, but generally consists of rice, a poppadum, dhal, and curried vegetables. When you're trekking, there's a dish called Sherpa Stew that's like a garlic soup packed with vegetables and pasta. You can read a food diary from Everest Base Camp here to get an idea.
Nepalese customs
When you meet a group of people, it's customary to greet the oldest person first, as a mark of respect. The most respectful way to greet someone is to join your hands in a prayer position and say "Namaste".
Learn a Cúpla Focal
We always love to learn a few words of the local language when we travel. In Nepal, they speak Nepali. Here are a few key words to get you started…
Hello… Namaste (or the more formal Namaskar)
Goodbye… Alavidā
Thank you… Dhan-ya-vaad
Good morning… Śubha – pra – bhāta
Good night… Śubha rātrī
If you want to read more about our expedition to Everest Base Camp, click the link. You can also read our other culture blog on Tanzania here!