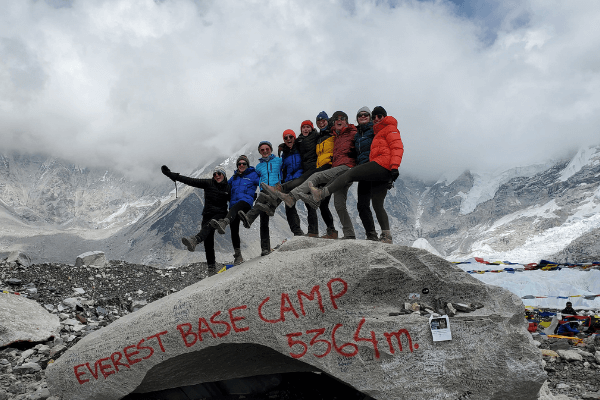 Our first expeditions to Everest Base Camp after Covid-19 ran without a hitch! It's been a long time coming, with some of our hikers waiting three years to trek this iconic route. Our 18-day itinerary takes you on the historic trek through the Khumbu Valley to Everest Base Camp sitting at the foot of Mt Everest (8,848m). This is arguably one of the best-known expeditions in the world and one of the most popular routes for trekkers to undertake. Our Earth's Edge lead guide Louise kept a diary each day to help give you an idea of what to expect on this expedition.
Day One TO THREE – GETTING TO PHAKDING
We met the group at Dublin airport early in the morning. Some of the group had already met through the Earth's Edge training weekend but for others it was their first time meeting. Everyone was happy, cheerful and friendly as we made our way through the infamous Dublin airport security queues (thankfully without any problem), as we embarked on our adventure.
We arrived in Kathmandu mid morning which gave us lots of time to decompress and explore. When we arrived we were all ready for a little snooze and a shower. In the evening we grabbed some lunch, explored the city and had an expedition briefing before dinner. The next morning we would take our flight to Lukla. Known as the most dangerous airport in the world because of its short runway and remote location. However, our team was ready to take on this famous flight, with epic views of both the pilots and the mountains it is a moment you'll remember forever.
We began our trek to Phakding. The tea houses in Phakding are amazing, they are very well run and they are just like a Swiss chalet.
Day Four & FiVE- Phakding to Namche Bazaar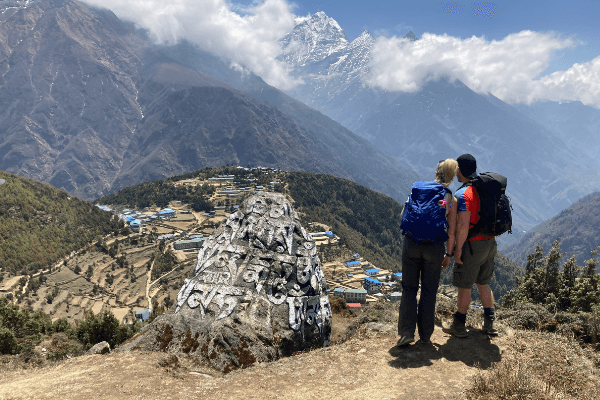 On day four we had a very early start as this was a long day. We were walking by 8.00am, had lunch in a tea house enroute and arrived in Namche about 4.00pm. Although it is a long day it is always one of the best! We also managed to see Everest from the lookout point just after the Hilary bridge. We met another Earth's Edge group in the tea house which was great, the two groups enjoyed an evening of chats and drinks together.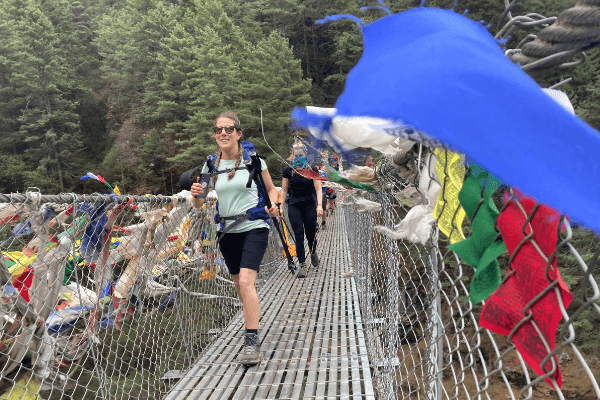 The next day we got the chance to rest and explore Namche. We went to the lookout point early to ensure a good view when the sky was clear. The group had the option to walk up to the old runway or to go back to the hotel and rest. After lunch people were free to shop, roam or rest. I recommend that everyone stops drinking alcohol at this point.
Day Six TO EIGHT – Namche Bazaar to Phortse TO DINGBOCHE
Day six was a great day but it is quite a tough day all the same. It took us 6 hours plus. It's a gentle but long climb from Khumjung to Mong where we had lunch in a lovely tea house perched high on the ridge. A steep descent to the river and then back up the hill to Phortse, which is a really cute village.
Day seven was another brilliant day as we walked off the beaten track towards Dingbouche. It took us a bit longer than six hours as we took our time with the views and the amount of wildlife. We were lucky to be very close to wild goats, Himalayan Monal (national bird) and golden eagles. So impressive! A few people were beginning to feel the altitude at this point.
On day eight most of the group went for an acclimatisation walk up behind the village. In the evening we got to relax and explore the village.
Day Nine TO TEN- REACHING THE ICONIC EVEREST BASE CAMP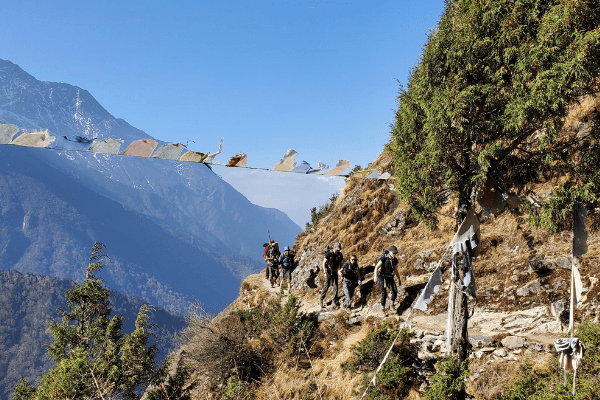 On day ten, we gained height immediately and travelled the high path joining the normal path as it came into the glacial moraine. The route through the moraine is rough and undulating and the group found it quite hard. We arrived in Gorakshep for lunch around 10.30/11.00am. The route to Basecamp starts on the rough moraine for a good hour or so. Then it becomes easier as you walk along the edge of the glacier. Everyone was in high spirits as we marched into Everest Base Camp – our goal succeeded!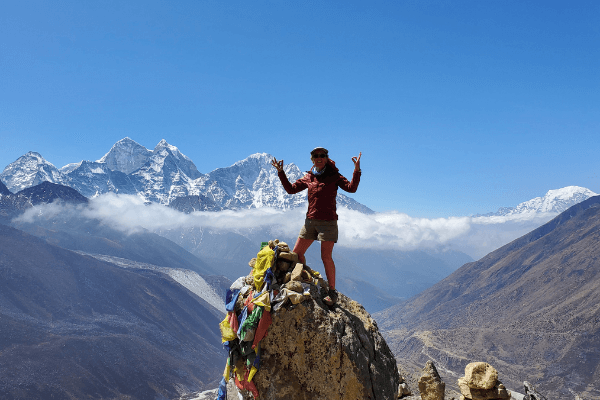 Day Eleven to FOURTEEN- TREKKING BACK TO Phakding
With the group in high spirits after our achievement we began to descend. On day eleven, some of the group trekked to the summit of Kala Patthar (5,644m). It was freezing up there, at least -15/-18. We were in Pheriche by mid-afternoon. There was a really really nice coffee shop half way down the village which was 100% worth the visit.
Day twelve was a fun day for all as we got to visit the temple in Tengboche which was followed by an evening of card games and cake – what a way to celebrate our trek. The celebrations continued when we reached Namche Bazaar on day thirteen where we were greeted with en-suite bedrooms in the tea house – what a real luxury!

On day fourteen we arrived back in our 'swiss style chalet', just in time to meet another Earth's Edge group who were just beginning their trek.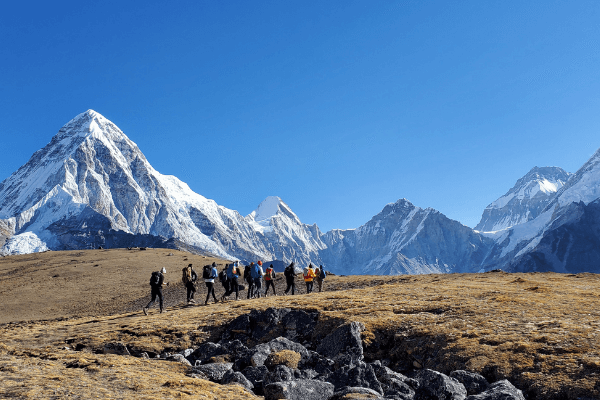 Day Fifteen to eighteen – Going home to Ireland
Back in Lukla we had an amazing time which included an impromptu musical session in the bar. This was followed by a disco after dinner. It was safe to say the group were in high spirits. The next morning we were up bright an early at 7am for our flight back to Kathmandu. The next day some of the group embarked on a city tour of Kathmandu before our evening flight back to Dublin.
Are you thinking of trekking to Everest Base Camp?
Trekking to Everest Base Camp is one of those life changing trips. Not only do you get to see the world's highest mountain from many different view points, you get to explore these small traditional Nepalese villages along the way. Our Everest Base Camp is one of our most popular expeditions for good reason after all. If you are interested in learning more about this trip check out our expedition page here.