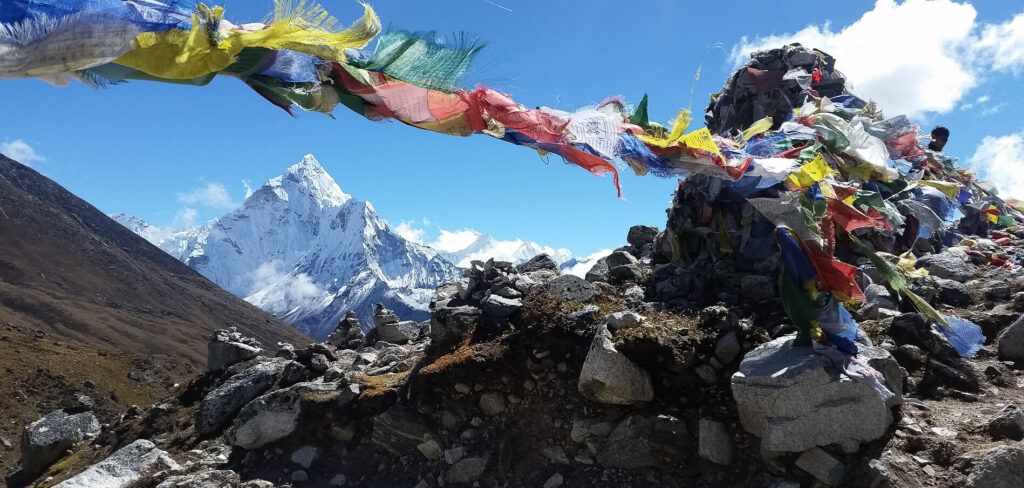 There are lots of reasons to love the trek to Everest Base Camp. The sense of walking in the same footsteps of history's greatest trekkers. An amazing setting in the Himalayas. The people you meet along the way. But one of the highlights is the sheer number of incredible sights you see. After all, this trek isn't just about the final destination. It's about the journey. If you're wondering: What will I see on the Everest Base Camp trek? Here's what you need to know…
What will I see on the Everest Base Camp trek?
Our expedition to Everest Base Camp is 18 days long in total. That includes travel time, rest days, the trek itself and the journey back to Lukla. Which means there's a hell of a lot to see in that time! Here are some highlights…
Kathmandu
We arrive into Kathmandu on day two and have some free time to explore this amazing city. There's also a free day to explore right at the end of the trip, and we have our celebratory dinner in the city as well.
Lukla Airport
On this expedition, arriving to Lukla is part of the adventure! Generally considered to be one of the world's most dangerous airports, the flight into Lukla is an incredible experience. We fly on a little plane and soak in some amazing views, before experiencing one of the world's coolest landings!
Namche Bazaar
We spend some time in Namche Bazaar, a cool market town that's full of action. We have a rest day here, to help us acclimatise, so there's plenty of time to explore.
Sherpa Museum
We believe it's really important to honour the Sherpa people and learn about their history when we're trekking to Everest Base Camp. As such, we visit the fascinating Sherpa Museum. We also visit the statue of Tenzing Norgay, the Tibetan mountaineer who became the first to step-foot on "top of the world" alongside Sir Edmund Hillary in 1953.
Incredible Mountain Views
As you might expect, we're blessed with incredible views along the course of this expedition. We enjoy the gorgeous countryside of the Khumbu Valley as well as all of the surrounding mountains. And on day seven, when we're trekking from Phortse to Dingboche, we catch our first glimpse of the incredible Mount Everest itself. Of course, there are far more sights to be enjoyed along the way! If you want to read more about our trek to Everest Base Camp, click the link. We also have lots of blog posts on the topic of EBC, which you can find here.