In August 2022, Earth's Edge content creator Arianna took part in our Machu Picchu expedition. In her Machu Picchu Diaries series, she recounts her time in Peru in amazing detail, telling you everything you could possibly want to know about journeying to the ancient Inca city.
This week on the Machu Picchu diaries, the group arrive in Peru and experience the vibrant city of Cusco, before beginning their trek to the remote Incan settlement of Choquequirao …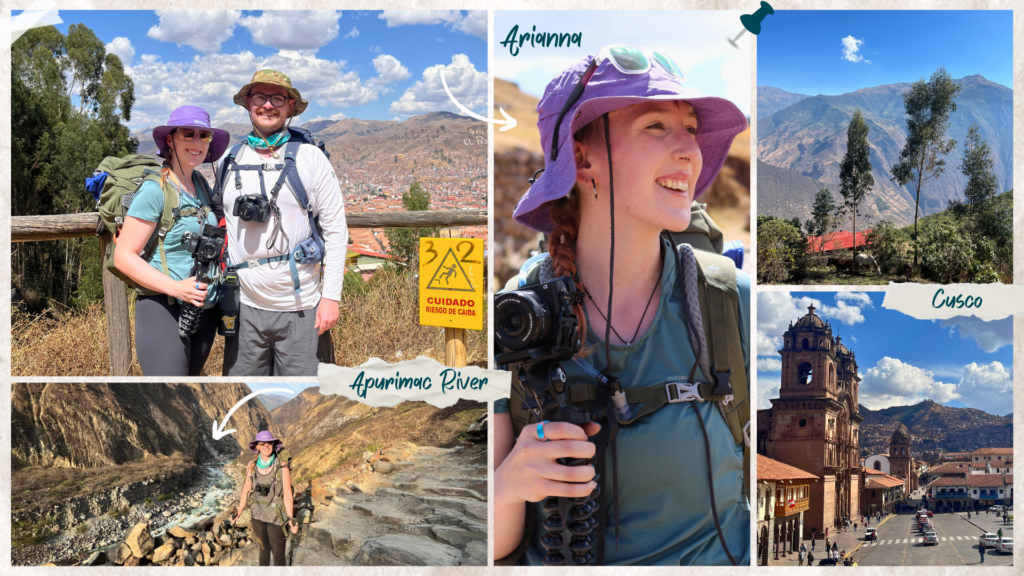 Arrival and Exploring Cusco
Days 1 & 2: After rendezvousing with our group in Dublin airport, we began our journey to South America. Following a brief layover in Paris, we continued to Lima where we would stay the night before getting our third flight to Cusco the next morning. This final flight was breathtaking, as we got to overlook the snow-capped Andes mountains – we couldn't peel our eyes away from the windows!
We arrived and were greeted warmly with a smile by our expedition leader Edgar. We were then promptly shuttled to our charming hotel, adorned with captivating Incan art and tapestries. The lobby greeted us with an abundance of coca leaves, inviting us to savour a soothing cup of coca tea, known for its headache- and stomachache-relieving properties. After a brief rest, we ventured into the bustling streets of Cusco, where vibrant local markets beckoned us with traditional Incan attire, souvenirs, and more. Dining in Cusco proved to be a culinary delight, offering a diverse range of food, from more traditional dishes such as ceviche and fresh salads, to guinea pig and alpaca, as well as carefully cooked meats and a range of delectable vegetarian options. The city's vibrant restaurant scene was a true haven for food enthusiasts.
Acclimatisation Hike in cusco
Day 3: Our exploration of Cusco continued with a guided tour of the city, leading us to the iconic Cristo Blanco statue, which also afforded stunning views. This climb offered encounters with local vendors, shops, and the striking San Pedro cactus flowers. We strolled through Plaza de Armas, a maze of cobbled streets and historic edifices. Along the way, we were awed at the engineering marvel of the ancient Inca walls, constructed without the use of cement or mortar. This day served as both an acclimatisation opportunity, and a chance to immerse ourselves in the splendours of Cusco. In the evening, we packed our bags and double-checked our trekking gear, eager for the journey ahead.
Beginning the Trek to machu picchu
Day 4: The following morning, an early rise led us to the bus that would transport us to the trailhead at Cachora. We enjoyed a hearty breakfast in a quaint village, relishing fresh bread, local fruits, and even sponge cake! Our first day of trekking was marked by a descent over rocky terrain, challenging on the knees but immensely rewarding. After reaching our campsite beside the Apurimac River, we organised our tents and spent the remaining hour or so of daylight availing of the lovely hot shower – I joke, it was a cold water hose in a puddle, but it was better than nothing!
Uphill Challenges and Stunning Views of the andes
Day 5: Each morning we were awakened by the aroma of coca tea and hot water for washing, thoughtfully brought to our tents by the cooks. The second day of our trek brought uphill challenges, but the lush valleys and verdant mountains surrounding us made the journey delightful. Our knowledgeable guide, Edgar, provided insights into the local flora while we occasionally yielded the trail to mules and horsemen carrying our supplies. That night, we camped below Choquequirao and were treated to a stunning sunset behind the Andes mountains. Edgar's detailed briefings each evening prepared us for the adventures ahead.
Evenings in the camp were marked by popcorn and tea before indulging in sumptuous meals featuring pork, chicken, fresh avocado, salads, pasta, rice, and hearty stews. Desserts were plentiful, including poached sweet pears with sugary syrup, and even birthday cake at one point! The availability of outdoor showers was a refreshing, if bracing, surprise.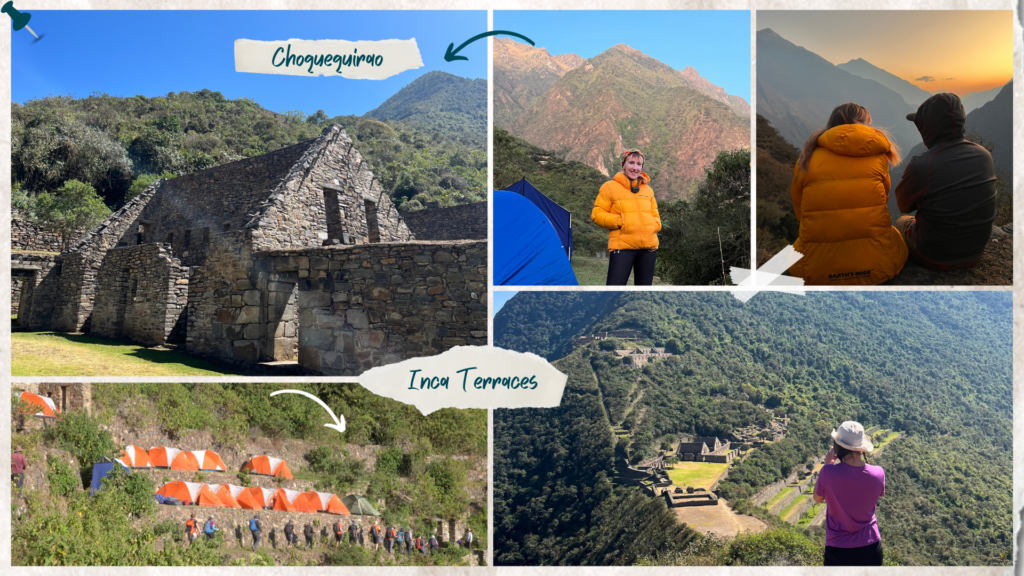 Exploring Choquequirao
Day 6: We kicked the next day off with breakfast, enjoying some toast, fruit, pancakes and some very strong Peruvian coffee. We embarked on an uphill climb toward Choquequirao, passing through a jungle serenaded by birdsong. The sun bathed us in warmth throughout the trek, and emerging from the trees, we encountered the secluded Incan site of Choquequirao, seemingly untouched by time and devoid of crowds. Our guides Edgar and William provided a tour of the ancient buildings, highlighting their historical significance. We followed the ancient water aqueducts that channelled glacial water into the site, a testament to innovative Incan engineering.
Lunch consisted of noodles and vegetables, made for us on the site, which was a lovely treat to have as we sat and took in our surreal surroundings. That evening at camp, our tents, which were set up on ancient Inca terraces overlooking the rolling valleys and mountains, provided a perfect view of the sunset. Our dinner featured delightful surprises, including a birthday cake, which we enjoyed in the mess tent. What a feat to prepare such delicious treats at 2,400 meters above sea level!
In Part II of the Machu Picchu Diaries, the group continue their journey toward Machu Picchu, while experiencing local village life and having the opportunity to make their own Peruvian coffee!